AMC Disney Springs in Orlando, Florida
If you're looking for a romantic and fun night out, AMC Disney Springs 24 with Dine-in Theatres is a great choice!
Located in the heart of Orlando, Florida, it's a central travel location for tourists and native Floridians.
When to Arrive
Arrive at least an hour early from the starting time of your movie to relax in the contemporary lounge area, and grab a fancy martini at MacGuffins…
Named after a term coined by famed filmmaker Alfred Hitchcock, MacGuffins is an inviting bar where guests can shake up their movie-going experience and order beer, wine, and cocktails.
Cosmopolitans at MacGuffins
I had a sexy cosmopolitan (a la Carrie from "Sex and the City"), and my sister took a caloric splurge and ordered an "Oreo Cookie" cocktail. The drinks were so yummy, we each ordered a second cocktail, and carried it in the movie theater.
As a TV Host, I was invited to this special "media night" and we had special photo opportunities, and lots of schmoozing with other members of the media.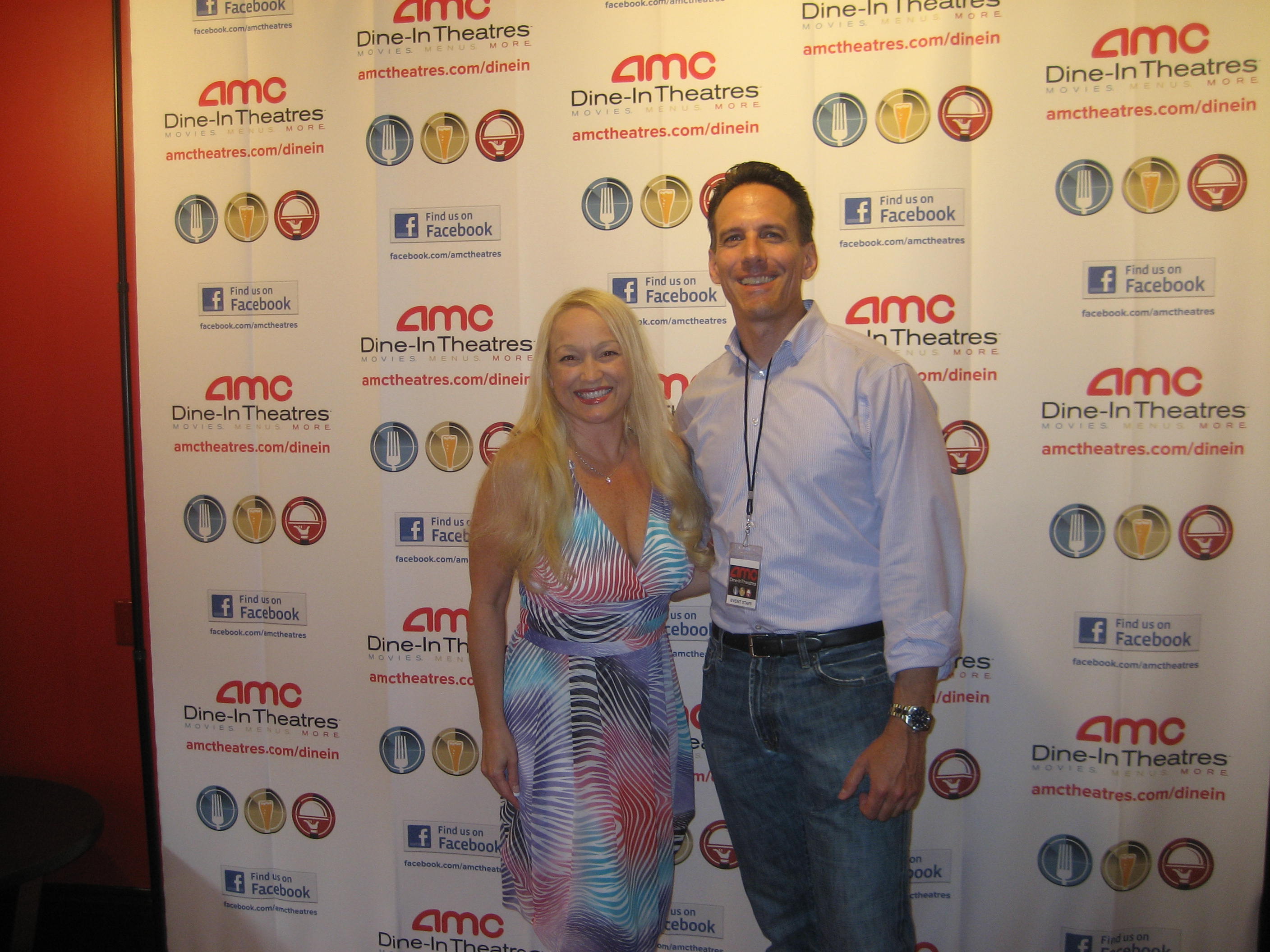 Dinner at AMC Disney Springs
Be sure to come hungry to AMC Disney Springs 24 with Dine-in Theatres!
The portions were large… I ordered the appetizer sampler platter, and it was deee-lish!
This large platter (great for sharing with your date) had fresh mozzarella sticks in a light batter and topped with freshly shaved mozzarella cheese; homemade, hearty potato chips; very tasty buffalo wings; mammoth-sized onion rings; and fresh celery sticks with blue cheese dressing.
An extensive menu including a wide array of entrees such as an enticing selection of quesadillas, burgers, flatbread pizzas, grilled sandwiches, house specialties, as well as appetizers.
Dessert
As a girl trying to watch her figure, I opted out of the dessert… what a great dessert menu, and an opportunity to spoon-feed your date during the movie!
Big Recliner Chairs
Feeling pretty stuffed from two cosmos and a pile of chicken wings, I loved the comfort of the big recliner-style chairs!
Discreet Service
Seat-side service and a personal call button that discreetly alerts a server
Pure luxury, and first-class all the way!
Took another sip of my Cosmo martini, indulged in the fast-action of "Tron: Legacy", and enjoyed the luxurious atmosphere.
At a push of the red button, we had our own server.
Luxury!
I highly recommend AMC Disney Springs 24 with Dine-in Theatres for a romantic date night out!