Speaking Engagements by Michelle Valentine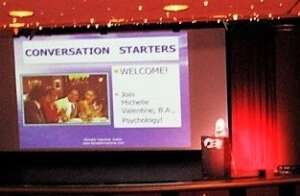 Need "edu-tainment" for your upcoming event? As a world-traveling speaker, Michelle Valentine loves to inspire and motivate others! She has presented to vacationers aboard Royal Caribbean, Celebrity, and Princess cruise lines… at ladies' fashion show luncheons… to college students… to 30,000 attendees at a Southern Women's Show convention, more. Topics include travel, psychology, sociology, art history, business, media, and entertainment. Make your next event shine! Book Michelle Valentine to present a customized seminar or workshop – or emcee – your upcoming event: ladies' luncheon, awards banquet, charity benefit, career fair, cruise, business convention, dating expo, etc.
Here are some of the fine companies that have worked with – and continue to work with –  Michelle Valentine:
WATCH DEMO REEL:
Book Michelle Valentine to speak at your upcoming event as:
If you're seeking a dynamic emcee to keep your guests entertained at your charity benefit, awards banquet, fashion show,  etc., then consider Michelle Valentine for your upcoming special event!
Michelle Valentine will present a customized seminar or workshop for your special group! Topics include travel, tourism, business, psychology, sociology television & radio, news media, art.
Are you having an event that is so special, that guests will need to be motivated or educated for an hour or more? Your guests enjoying a sit down meal or business convention will be thoroughly entertained.
Southern Women's Show
Michelle, thank you for participating (emceeing) on the Fashion and Entertainment stage! It was so fun and a great addition to the features of the Southern Women's Show! It was a pleasure and we hope to see you again!
Winter Park Public Library
Dear Ms. Valentine… Because of you, we've been able to meet the educational, personal enrichment and continued learning needs of our patrons and participants from the surrounding community.
WATCH RAVE REVIEWS VIDEO: