PRESS / NEWS / MEDIA / AWARDS
Michelle Valentine has appeared thousands of times in media around the world.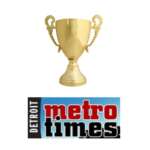 Voted "Best of Detroit" for "Best Local TV Show" by the Detroit Metro Times newspaper for "Offstage" music entertainment TV show
Voted "Best of Orlando" by the Orlando Weekly newspaper:  "Anyplace flaxenly graced by the presence of Michelle Valentine"
Honored as "Orlando's Fifty Finest" by Orlando Magazine for community involvement and philanthropic efforts
TELEVISION
Guest Appearances on TV news, Commercials, Infomercial Spokesperson, Color Commentator, Documentaries
RADIO
Guest Appearances on Radio News and Lifestyle Programs, Live Call-In Advice on Radio Shows, Commercials
PRINT
Featured numerous times by fine magazines, newspapers, and online
PUBLISHED WRITINGS
Over 200 of Michelle Valentine's writings have been published in fine newspapers and magazines such as the Orlando Sentinel, Orlando Weekly, Local Wine Events, Orlando Me Magazine, more. Michelle Valentine has one published book, available on Amazon and Barnes & Noble.
COMMUNITY / PHILANTHROPY
Charity Benefits, Fundraisers, Volunteering, Involvement by Michelle Valentine